June 4, 2021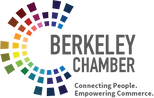 I am writing on behalf of the Berkeley Chamber of Commerce to express support for the Anchor House student housing project at the corner of University Avenue and Oxford Street in Berkeley, just one block from the UC Berkeley campus. The Berkeley Chamber of Commerce is Berkeley's premier organization for Berkeley businesses and supports the economy of Berkeley by providing education, advocacy, and connection to its member businesses.
This project will result in many benefits. In the first place, Anchor House will prioritize housing for transfer students, who face greater challenges (compared to their first-year counterparts) in finding accessible and affordable housing near campus and successfully transitioning into the campus community. A higher percentage of transfer students come from disadvantaged backgrounds as compared to incoming freshman students. In addition, the Anchor House project will also address vital needs of commuter students by providing the campus's first dedicated commuter lounge with lockers and restrooms, as well as access to the indoor/outdoor fitness facilities.
By supplying 772 new beds, Anchor House will help to meaningfully mitigate the housing crisis in Berkeley and help the 40 percent of Cal undergraduates who are not able to live on or near campus. Moreover, this project represents significant progress toward the Chancellor's priority of doubling the amount of campus-supplied student housing.
Because its construction and related costs will be gifted to UC Berkeley by a generous donor, the building will require no public funds to build. Moreover, because of an innovative philanthropic agreement, Anchor House will require virtually no public funds to operate. We are enthusiastic about the fact that all net income generated by the property will fund annual scholarships for undergraduates. Current projections indicate approximately 100 two-year scholarships could be generated each year. There is an additional goal to award 50 of the scholarships every ten years to transfer students through the Fiat Lux Scholarship Program, which focuses on students from underrepresented populations and first-generation college students.
Finally, and of great importance to the Chamber's mission, Anchor House will benefit the local economy in several ways. On the front end, by providing construction jobs. By housing 772 students within downtown Berkeley and providing approximately 15,000 square feet of community-serving retail and commercial space on the ground floor Anchor House will help to revitalize the downtown Berkeley economy. Other local benefits include two new event spaces, a culinary classroom for the Rausser College of Natural Resources, and expansion of the Berkeley Art Studio with classes for students and the community.
In addition to the benefits highlighted above, the timeless, environmentally sustainable, and durable design of the building will enhance the neighborhood with lasting benefits for the City of Berkeley, the community and UC Berkeley students. Berkeley Chamber also encourages the University to ensure an equitable and fair settlement for any rent-controlled tenants still on the current site, so that they may continue to live and thrive in Berkeley.
Thank you for your consideration.
Beth Roessner
Interim CEO, Berkeley Chamber of Commerce
---