Anchor House: Prioritizing Transfer Students
Limited housing availability for students is a matter of urgent concern for the university.
At present, Berkeley has the lowest percentage of beds for its student body of any UC campus, exacerbated by a shortage of suitable rental housing throughout the Bay Area and particularly in the City of Berkeley.
A significant percentage of our undergraduate students are not able to live in the City of Berkeley due to the low supply of housing and high market prices. Living far from campus impedes a student's ability to thrive academically, socially, and culturally. This challenge is especially acute for transfer students, who are historically underserved by campus housing.
A higher percentage of transfer students come from underprivileged backgrounds as compared to incoming freshman students.
In 2020-21, UC Berkeley admitted 4,779 transfer students, predominantly from California: 
45% are first-generation college students
43% are Pell Grant eligible
One-third are from underrepresented minority groups (African American, Chicanx, Latinx, and Native American)
More than 95% are from California community colleges.
Anchor House will benefit the campus community, the City of Berkeley and the region as a whole: 772 fewer students will no longer need to compete for and create price pressure on the city's insufficient housing inventory.
This significant project will also fulfill approximately nine percent of the campus's total housing goals for the next 10 years.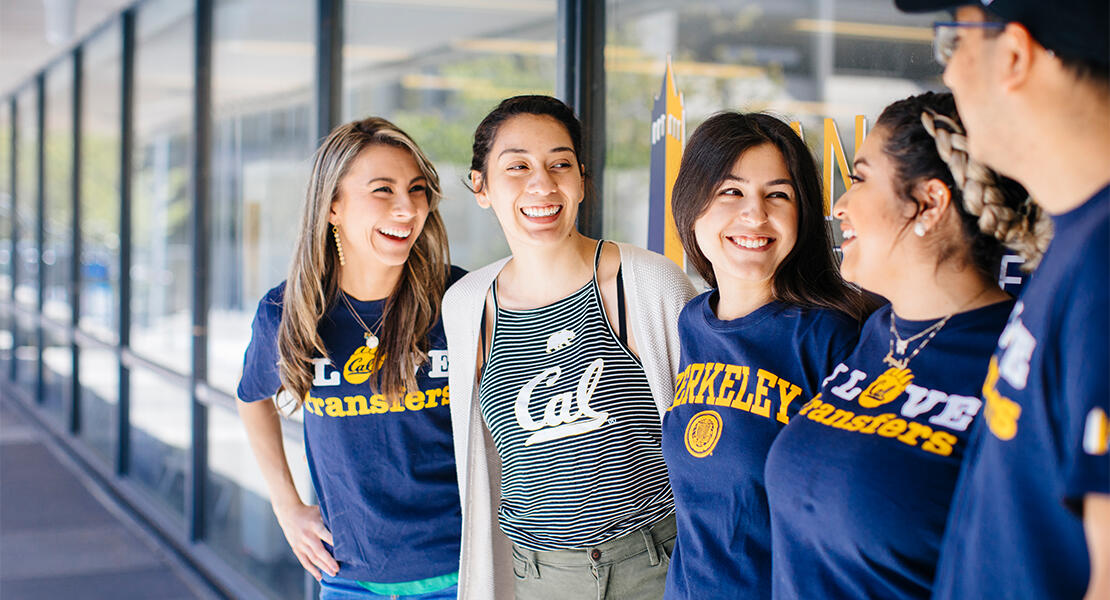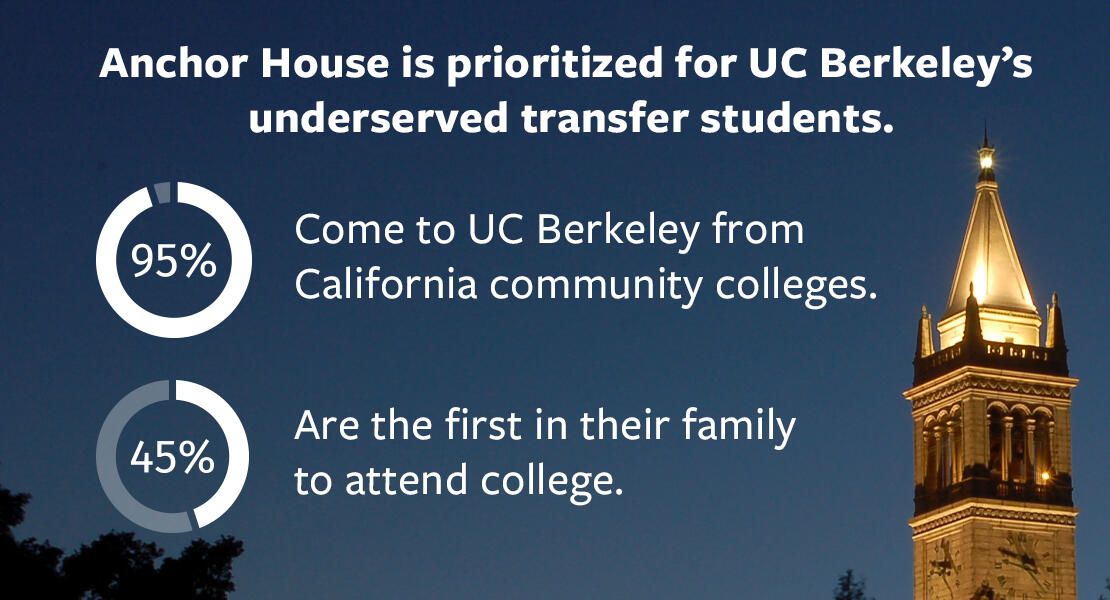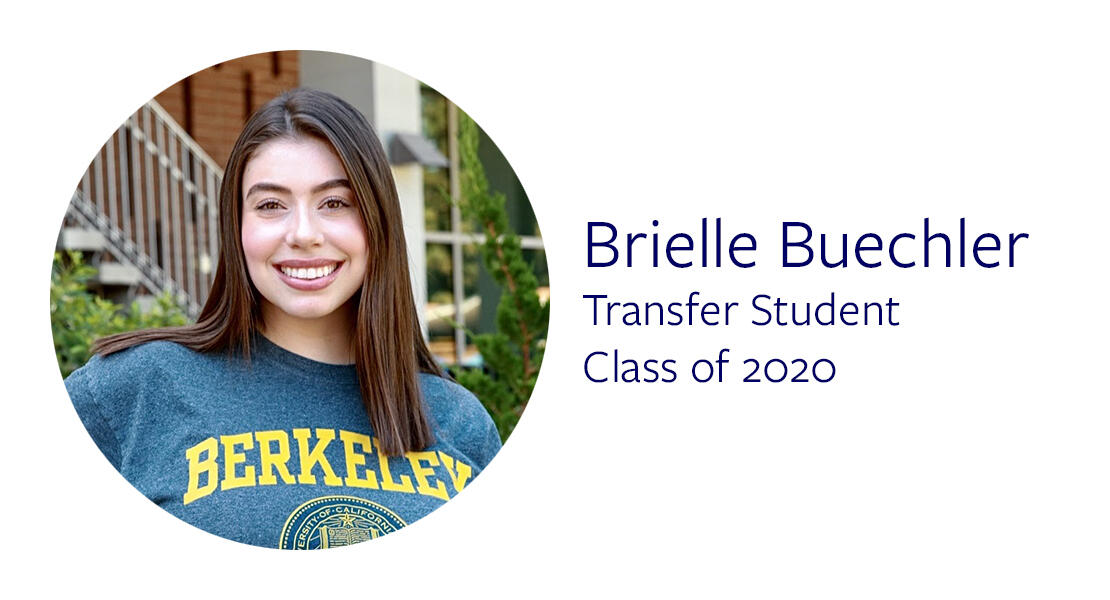 It seems like a real-life space that will help transfer students transition first to Berkeley, then to their lives after graduation.

Brielle Buechler '20
Recent graduate Brielle Buechler '20 lived with her parents in the Tri-Valley area, about 30 miles east of campus, during her time at Berkeley. A transfer student from Diablo Valley Community College, living at home made financial sense for her, but it meant that she missed out on a lot of opportunities for connection and belonging that happen when you live on campus.
"It was really tough because I saw all these people go to orientation events and go to clubs and enjoy all of these opportunities that were available to Berkeley students," says Buechler, noting that she often felt constrained because of her hour-long commute home every day. "I really wanted a space that could serve as a liaison to everything on campus." 
Over time, Buechler became more involved in the transfer student community, serving as a peer advocate to offer support for other students who "feel like freshmen but come in as juniors." 
Learning about the Anchor House project, she was enthusiastic about the hub of belonging and connection it will provide, which includes space for commuters and residents. She was also impressed by the gym and other amenities.  
Recognizing that transfer students often come to Berkeley having worked or had other experience outside of academia, Buechler feels that Anchor House is the perfect site for "transfer students who are going to school while adulting. It seems like a real-life space that will help students transition first to Berkeley, then to their lives after graduation."
Inspired by her own search for belonging at Berkeley, Buechler is currently working as a health and wellness advocate for international graduate students through a program at Northeastern and pursuing a graduate degree in higher education. Ultimately, she wants to work with undergraduates, who are in an incredibly pivotal moment in their lives and would benefit from the kind of support and community that Anchor House will help to provide.
---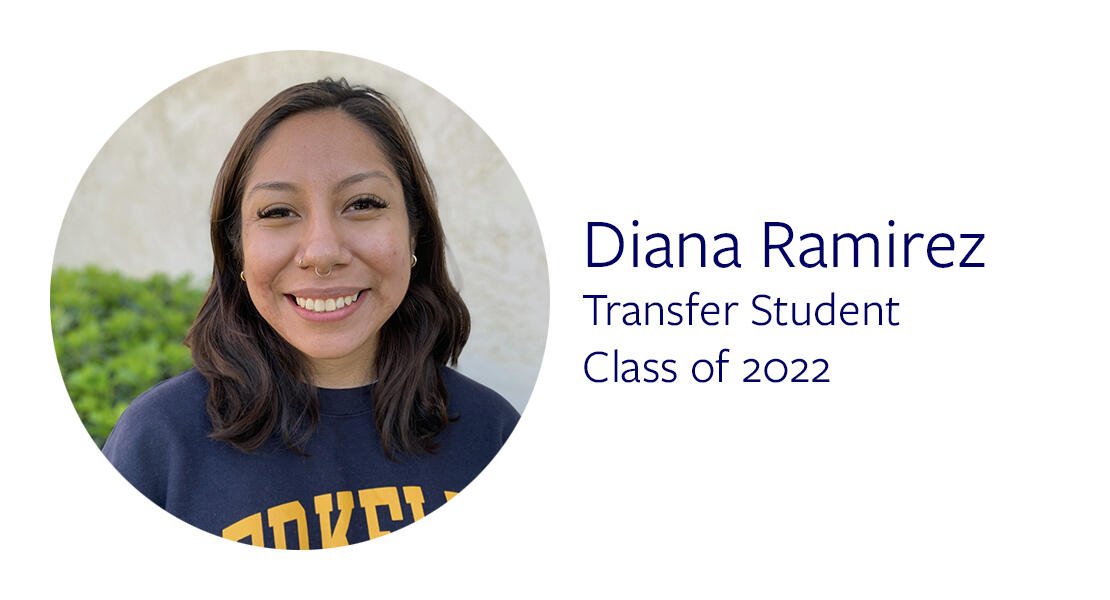 It seems like Anchor House will ease that feeling of 'I need to find housing fast or else.' Because maybe that apartment you end up settling for doesn't work for you.

Diana Ramirez '22
Diana Ramirez was on track to graduate in fall 2021, but she wanted to absorb more of life at Berkeley and shifted those plans to spring 2022. She transferred from East Los Angeles College in 2020. With an interest in social justice, Ramirez is majoring in Chicano studies and plans to attend graduate school, either studying law or public health.
The Southern California native says choosing Berkeley was a way to assert her independence, having come from a family of five. 
"I wanted to find myself, get away from cultural norms, and just do some self-discovery."
Ramirez says being a transfer student starting in the spring threw off timing to apply for housing since it's more typical to see rentals available just before the fall semester.
"The housing situation was hard to navigate," she says. "I just kept looking for people that could help me, scouring Facebook pages looking for a place. I found housing two weeks before classes started. It seems like Anchor House will ease that feeling of 'I need to find housing fast or else.' Because maybe that apartment you end up settling for doesn't work for you."
Ramirez lived in her first apartment as a Berkeley student for a year. At first, everything seemed fine, but she felt increasingly unsafe there. 
"It got so bad, like I felt so lost that I considered withdrawing," Ramirez says. "It worked out because I kept being an advocate for myself. But that's hard for transfer students because many feel like they won't be able to get the help they need — Berkeley is a big university. Just reaching out is a big step. With housing set aside for transfer students and just being in a community with other transfer students, that's amazing."
---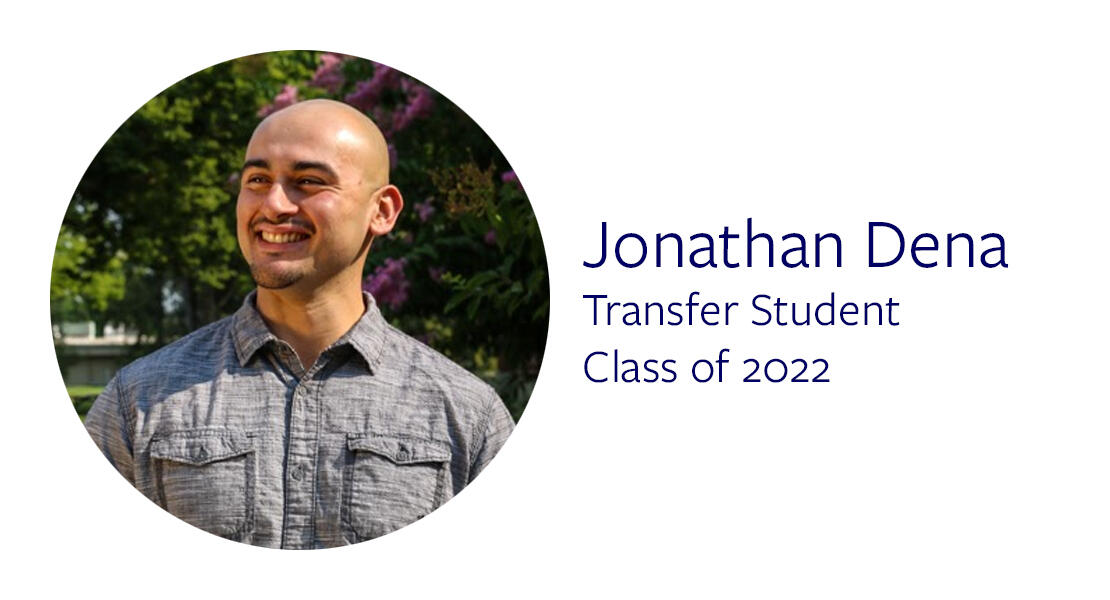 Anchor House will shed light on the transfer student population and give us more visibility in the community. It's our seat at the table.

Jonathan Dena '22
"Growing up, I didn't even know what colleges and universities were," says Jonathan Dena '22, who transferred to Berkeley from Consumnes River College in Sacramento. "But when I found out urban studies was a program at Berkeley, I put everything into it. When I was accepted by the College of Environmental Design, it changed my entire outlook on education."
Dena, who was accepted by four University of California campuses, had no idea what to expect. There was no one to tell him what attending university would be like, let alone how to overcome financial and housing insecurities he experienced in the transfer process. "I was afraid of the finances more than anything," Dena explains. "And the possibility of going from apartment to apartment, from couch to couch, to attend university here."
What reinforced his decision to attend was the Berkeley Underground Scholars Initiative, designed to help formerly incarcerated students transition to university. "I think it's amazing that Berkeley is saying 'we want people like you' here," he says. In his time at Berkeley, Dena has made many friends, including students able to afford out-of-state tuition. "Berkeley is a mixed-income city," he says. "There is a lot of diversity, which is great. But it can also create inequities, especially in access to quality housing."
Dena, a councilmember of the Cooperative Housing Unit at Rochdale Village Apartments in South Berkeley and a mentor to youth, sees Anchor House as a way to begin to level the playing field when it comes to equitable student housing for low-income transfer students.
"I feel Anchor House is a great first step in that direction," Dena says. "It's marketing to community college transfers, telling them that Berkeley is not out of reach, even for the most marginalized, low-income communities throughout the state." He then adds: "Anchor House will shed light on the transfer student population and give us more visibility in the community. It's our seat at the table."
---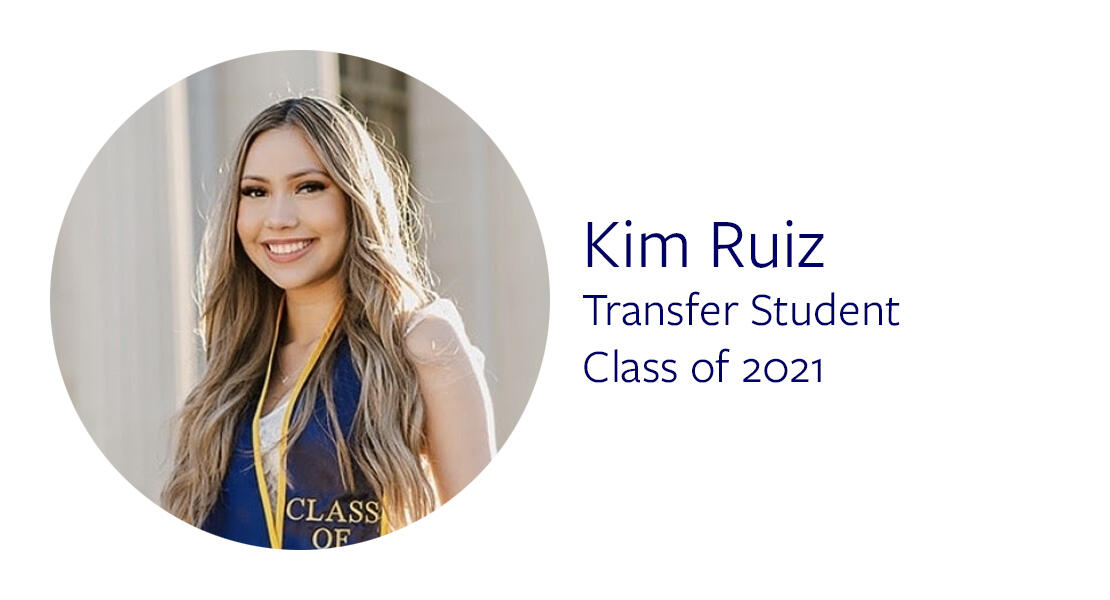 Anchor House definitely seems like a place that provides comfort, especially for someone who is new. I admire the amenities it offers — but really it's all about community.

Kim Ruiz '21
For media studies major Kim Ruiz '21, making the shift to UC Berkeley from Orange Coast Community College involved a lot of discomfort. A self-described introvert, Ruiz had chosen to live off campus in order to secure a single bedroom but came to regret the decision.
"I felt isolated just being at Berkeley but also in this new home I was in," Ruiz says, reflecting on the special efforts that transfer students often have to make to build community. She feels that many four-year students make their deepest social connections just by living together in the dorms. "It would have been more fun to interact with people who were also transfer students in that kind of housing environment."
Over time, Ruiz found her community by joining a sorority and becoming involved with the Transfer Student Center. She landed a position as a peer advocate lead for the Transfer Insights Mentorship Program, which pairs a first semester transfer student with a continuing transfer student. Ruiz loved offering incoming students the chance to connect with someone who could show them the ropes. Recognizing that community is the foundation of personal strength and happiness, she plans to build a career in human resources after she graduates.
Though she ultimately discovered that sharing a room can be great, Ruiz says she's impressed by the plans for Anchor House, which includes single rooms as well as spaces for gathering, working out, and making meals together. She feels strongly that she would have felt at home at Anchor House, and she is excited for those who will have the opportunity to live there.
"Anchor House definitely seems like a place that provides comfort, especially for someone who is new," says Ruiz. "I admire the amenities it offers — but really it's all about community."
---