Anchor House: Well-being & Sustainability
The guiding principles of Anchor House are well-being, education, and sustainability. 
Anchor House will be a certified LEED Gold building. LEED is the most widely used green building rating system in the world and provides a framework for healthy, highly efficient, and sustainable green buildings.
Anchor House will incorporate environmentally friendly design and operations, promote the efficient use of energy, water, and other resources, and incorporate technologies that reduce the overall impact of the building. Rooftop solar panels will provide up to 30 percent of the Anchor House's cooling needs. 
The building includes a rooftop vegetable garden where student gardeners will practice and learn about organic farming and farm-to-table concepts. 
Anchor House will also include the Rausser College of Natural Resources' new Berkeley Teaching Kitchen, which will host cooking classes for undergraduate and graduate students. "The new teaching kitchen space within the Anchor House will fill a critical need on campus," says Nina F. Ichikawa '00, the Berkeley Food Institute's executive director who was herself a transfer student.
Alice Waters '67, founder of Chez Panisse restaurant and the Edible Schoolyard Project, has also expressed her admiration for Anchor House's potential to serve food security and sustainability goals while providing essential new student housing. The facility's rooftop garden was inspired by the Edible Schoolyard Project's garden at Martin Luther King Jr. Middle School in Berkeley.
"Students and residents will be encouraged to engage their senses in the garden, to see and understand how food is grown, and to participate in the planting and upkeep of the garden," says Waters. "This edible landscape will be an extension of the teaching kitchens below, a place where students will absorb the values of stewardship, nourishment, diversity, and community."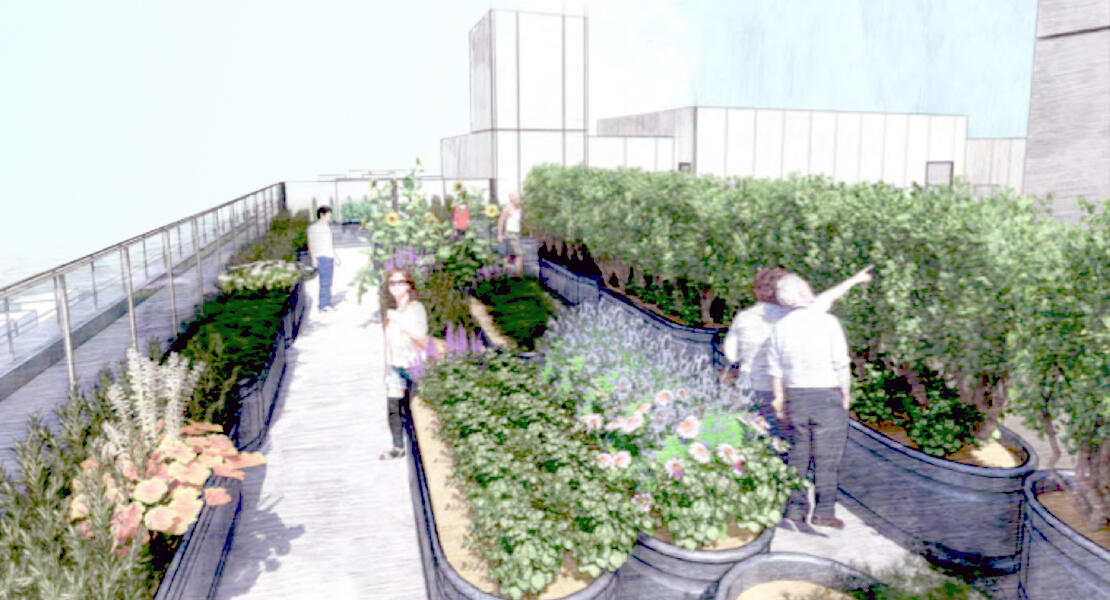 Anchor House includes an expansive 8,600 square foot indoor/outdoor fitness center with cardio and strength training equipment.
The building will also include a yoga studio and meditation room. For cyclists, Anchor House provides secure bicycle storage and a bicycle repair facility.
Anchor House also promotes well-being by incorporating large windows and natural light, outdoor spaces, and immersive landscaping. Indoor-outdoor living is encouraged by a large central courtyard and multiple terraces and balconies on various floors.
There will also be a Maker's Space run by the Berkeley Art Studio offering art classes for students and the community.