Clark Kerr Campus Beach Volleyball Courts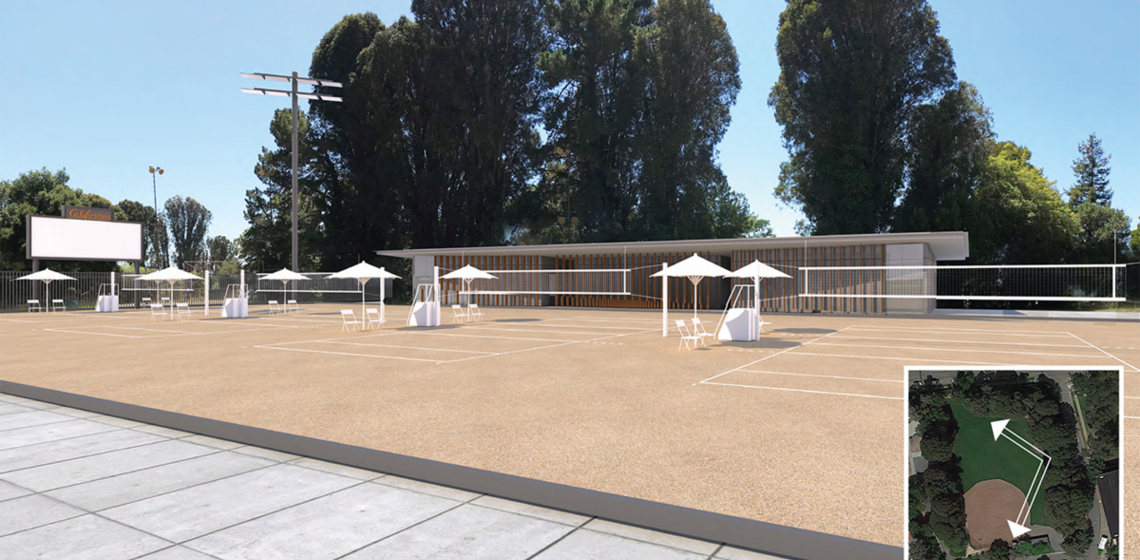 Chancellor Christ has made clear that gender equity is a crucial, over-arching value for the campus that demands equitable facilities for its women and men student-athletes. In addition, the campus must also maintain compliance with Title IX that supports and enforces that same value. The University is working to provide existing women's teams with fields, courts, and associated amenities that are similar to what their male counterparts at Cal already enjoy.
The proposed project would include two components: 1) development of beach volleyball courts for the women's Intercollegiate Athletic beach volleyball program and other recreational uses at Clark Kerr Campus; and 2) partial demolition of Building 21 at Clark Kerr Campus.
Currently, there are two beach volleyball courts located on Clark Kerr Campus, approximately 800 feet from the proposed project site. These courts do not meet Title IX requirements.
The proposed project would involve the construction of an Intercollegiate Athletics and recreational beach volleyball facility with four courts, a support building with team rooms, locker rooms, restrooms, coaches' offices and storage, new lighting and scoreboard, a public address system, and a lawn area for spectators attending matches, to support UC Berkeley's ongoing compliance with Title IX. The facility would be primarily used by female student athletes who participate in the Intercollegiate Athletics beach volleyball program. The new facility would be constructed on the site of the existing CKC recreational softball field.
The proposed project involves the partial demolition of Building 21 which has not been occupied since 1979 due to seismic issues and has been used for storage. The partial demolition addresses the seismic safety risk posed by the building pursuant to University of California Seismic Safety Policy. It also complies with the 1982 Declaration of Covenants and Restrictions that UC Berkeley entered into with neighbors of Clark Kerr Campus.
Intercollegiate Athletics would manage the new facility for beach volleyball practices and competitive matches. During the summer, the site would be used for youth camps operated by UC Berkeley Recreational Sports and/or Intercollegiate Athletics. Additional uses for the facility by UC Berkeley would include archery clubs, occasional youth programs and community recreational uses year-round. These proposed programs currently operate at Clark Kerr Campus sites today.
Additional Information
Online Public Hearing to Receive Public Comments on the Draft EIR for the Proposed Clark Kerr Campus Beach Volleyball Courts Project - February 10, 2022
Online Scoping Session - August 24, 2020
Project Design Update - December 17, 2018
Community Open House - August 13, 2018